Sustainability Initiative
"We will not create a huge impact if 1% of the people do 100% right – But we will if 100% of the people do 1% right."
We are committed to leaving an ecological footprint as small as possible with the 2023 conference in Bremen. Keep reading to see what actions are in place to contribute to a greener and healthier conference!
All catering services will avoid single-use plastic serving ware and will source their ingredients locally. During breaks, the provided snacks will be solely vegan and vegetarian. Lunch is going to be served in the university cafeteria. Daily you can choose from delicious vegan and vegetarian options that are prepared with as much as local and biologically produced ingredients as possible. As you can see, we can already limit CO2 emissions with providing mainly vegetarian and vegan options.
Do you want to spend your lunch outside? Enjoy your break for example at the Uniwiese next to one of the various biodiversity meadows at the University (
https://goo.gl/maps/8xk8FyfGNhb3CKpD6
). You can use the convenient deposit-refund system at the cafeteria to avoid waste.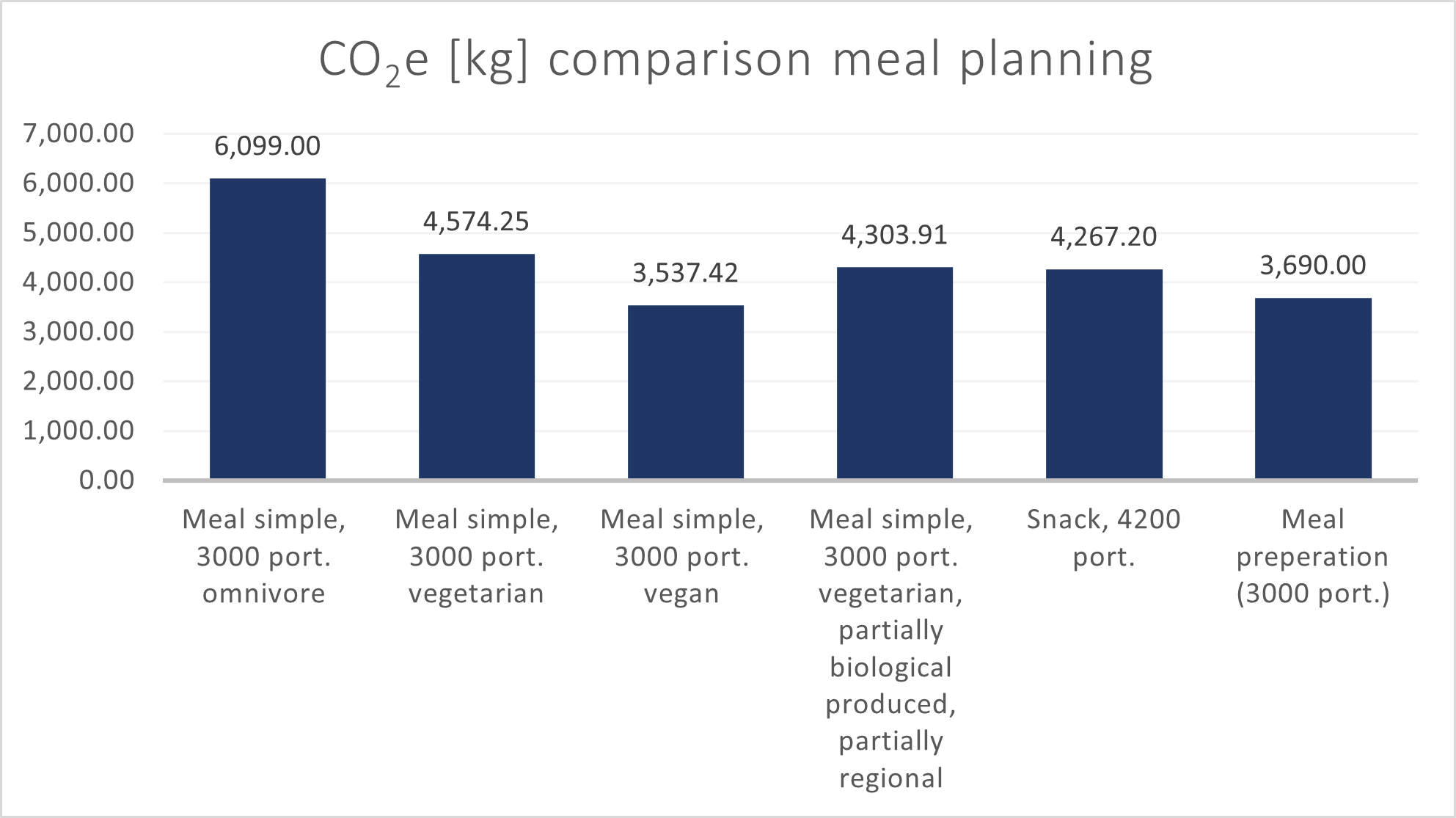 To avoid as much waste as possible we do not use plastic advertisements and banners to announce the conference.

Following a "Make the right choice the (cheaper) easy choice" approach the conference supports sustainable travel options. Registered participants can receive reduced fares for the German Railway system as well as Flixbus.


"No one made a greater mistake than someone who did nothing just because he could only do a little"
We described the actions we took to make the conference as sustainable as possible. To fulfil this goal, we need YOU as well. Even small decisions are a valuable contribution towards healthier and more sustainable conferences.

The greatest impact of the carbon footprint for the conference is the transport sector. While choosing sustainable travel options you can help to limit the CO2 emissions as much as possible. Check out the graphs below to get a short overview of the different CO2 emissions while travelling by plane, car, train, or public transport. Make use of the lower fares for trains and busses and enjoy an environmentally friendly ride through Germany!
If you cannot avoid taking the plane, try to fly to an airport closest to the conference venue. From there you can make use of the suggested sustainable travel options.
Still not sure which travel option to choose? You can use this calculator:
https://www.quarks.de/umwelt/klimawandel/co2-rechner-fuer-auto-flugzeug-und-co/
. If you choose to go by car, you can cut emissions in half when travelling together with your colleagues or using car-sharing services like BlaBlaCar (
https://www.blablacar.com/
).
Do you want to explore as much as possible in Bremen, boost your health and limit emissions at the same time? Get around in Bremen while walking and cycling and fulfil all these goals at once. If the way is a bit longer you can easily use the well-connected public transport system.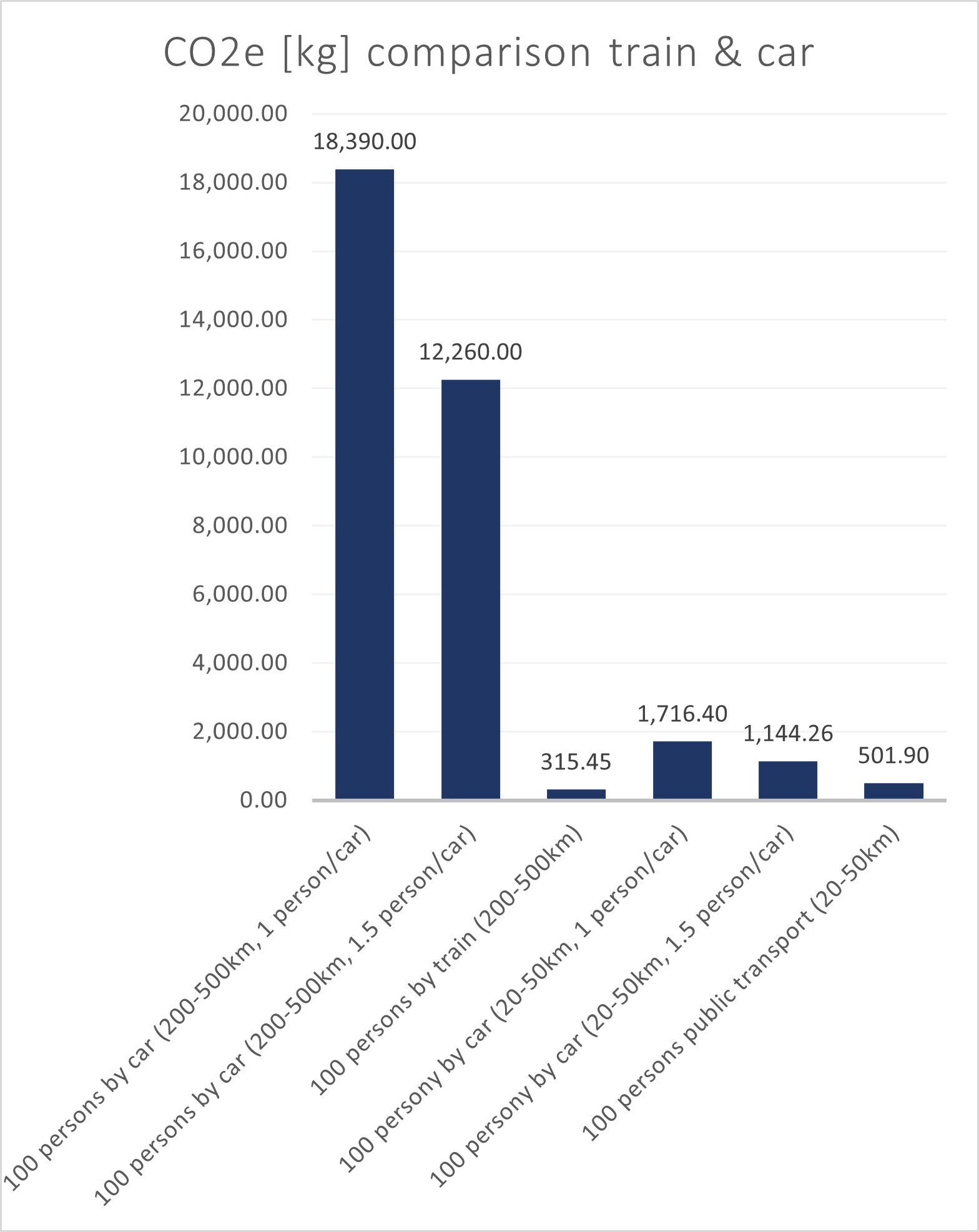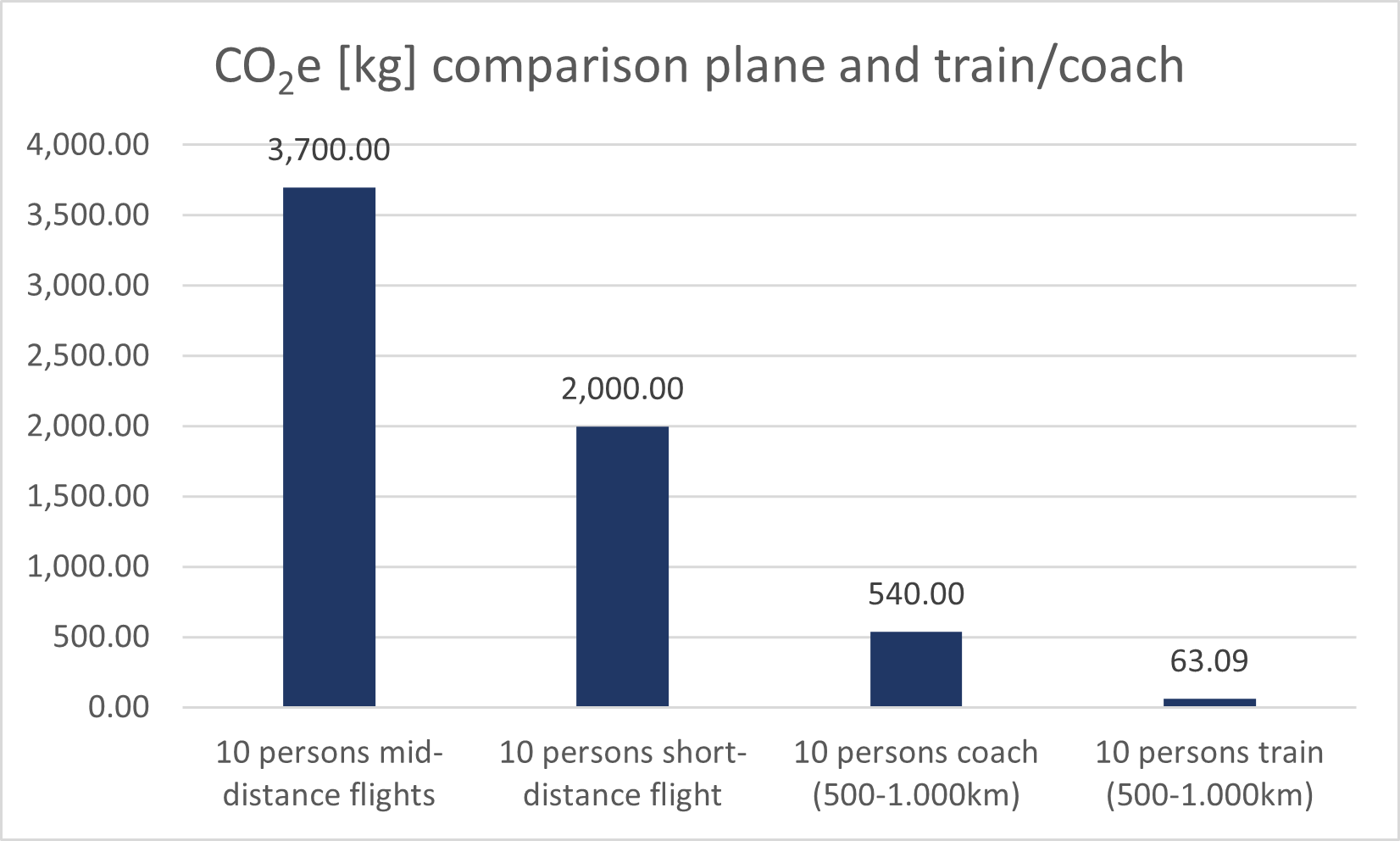 Besides choosing a sustainable travel option you can also contribute to keeping the emissions as low as possible with your choice of accommodation. The following graph shows the different options and the corresponding CO2 emissions. Taking sustainability into consideration while choosing a place to stay is already a huge step in the right direction!
The description shows that everyone – the conference organisation team, as well as every single conference attendee, can contribute to a more sustainable conference! Every CO2 [kg] not emitted into our atmosphere is a step towards a greener, healthier and more sustainable future!