CREATE Interactive Workshop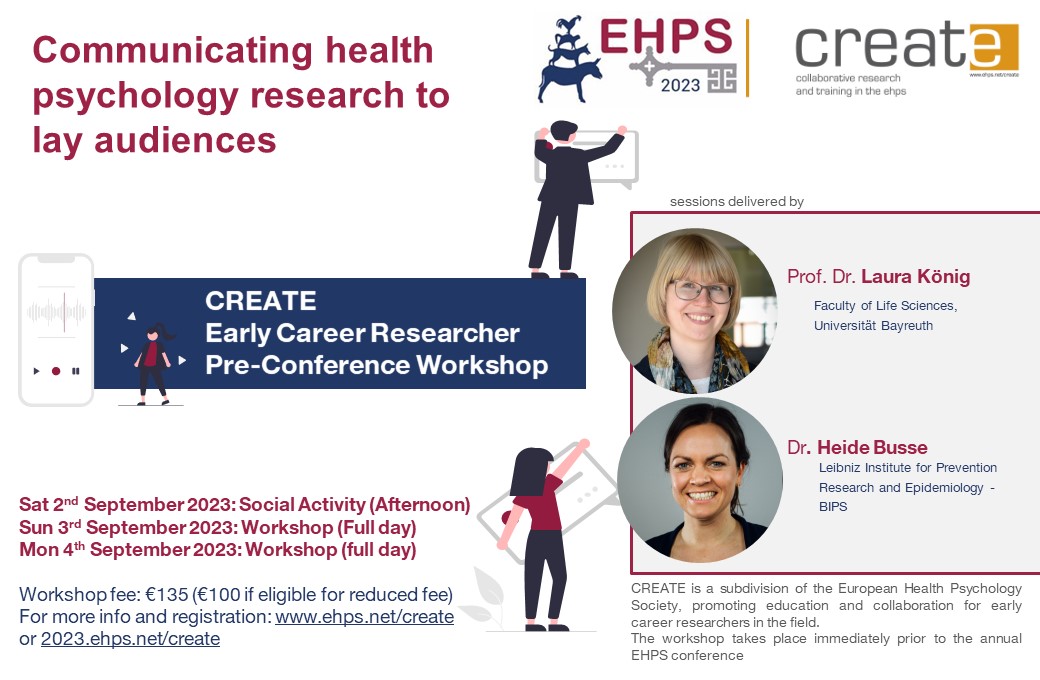 Early Career Researcher Workshop
CREATE organises interactive workshops each year. Prominent experts within the field of health psychology are invited to lead these workshops. The overall aim of these workshops is to enhance knowledge and skills of early career researchers working in Health Psychology.c.
The CREATE pre-conference workshop is a separate format from the conference workshops, and registration follows its own procedure.
Sun 3nd and Mon 4th of September 2023 (+ social activity on afternoon of Sat 2nd September)


Prof. Dr. Laura König



Dr. Heide Busse
Funding: A grant for workshop registration, conference fee, accommodation and travel is available. Find out more about eligibility and the selection process here: https://ehps.net/grants/)
Application:
Places are limited and are in principle given on a first come, first served basis. But please note that priority will be given to Early Career Researchers if applications exceed available places. In order to be accepted for the workshop, you will need to be a member of the EHPS.
You can fill application form here:
https://survey.fra1.qualtrics.com/jfe/form/SV_enRh6pKZPE6DV42
Deadline for applications: Friday 2nd June 2023
Communicating health psychology research to lay audiences
Looking for ways to communicate your research to others outside of the research world but not knowing where to start? In this two-day interactive workshop facilitated by Dr. Laura König (University of Bayreuth, Germany) and Dr. Heide Busse (BIPS Bremen, Germany), you will have a chance to delve into the topic of science communication. Together, we will discuss why engaging in science communication is rewarding for health psychology researchers at all career stages, explore how to develop and plan a science communication activity, discover different avenues for the implementation of such activities, and look at examples for do's and don'ts in science communication. At the end of the workshop, you will be able to plan and implement a science communication strategy for your own research or practice. In addition, you will meet and exchange ideas with other international early career researchers and ample opportunity for exchange and networking will be provided.